Per the 1880 Federal Census, only one W. H. Harris was living in Dodge City, Ford County, Kansas.

Census Place: Dodge, Ford, Kansas
Source: FHL Film 1254381 National Archives Film T9-0381 Page 562A
Relation Sex Marr Race Age Birth

W. H. HARRIS Self M S W 33 PA
Occ: Saloon Keeper Fa: --- Mo: ---

C. C. HENDERSON Other F S W 25 PA
Occ: Keeping House Fa: PA Mo: PA

Mary LEVI Other F S W 19 PA
Occ: Domestic Servant Fa: GER Mo: FRANCE

By 1883 Harris had lived in Dodge City a total of seven years. He was the Vice President of the Dodge City Bank and held a one-quarter interest in the bank. In partnership with Chalk Beeson, Harris owned one-half interest in C.O.D. branded cattle. Harris held a large stock of bonded whisky in Kentucky. Previously, he was co-owner of the Long Branch Saloon.

Research shows that two seperate families claim rights to W. H. Harris. The challenge now is to sort out the facts and determine which family William Henry Harris belows to.

One W.H. Harris never married and ended up killing himself in Kansas City, Missouri in 1897. His living relatives live in Central City, Colorado. I have not been contacted by this family but hope they come forward.

The other W. H. Harris married, had 8 children and died in 1941 in Illinois.

Family history - for the second W. H. Harris is as follows.

William Henry Harris born December 12, 1856 in Victoria, Melbourne, Australia to Daniel & Mary Ann Leonard Harris. William had four siblings; Job, David, Aliesha and Mary. Sometime in the 1860's the Harris family left Austrlia for the U.S. The family first went to Pennsylvania then to Fulton Co., Illinois.

W.H. left home at a young age and headed West. He told many stories of his life and travels in Kansas and Arizona. He also told stories about his life with Bat Masterson,Wyatt Earp and others.

Fact- the second W.H. left Dodge City in 1884 and married Cora Swanston in Missouri. They moved to Garden City, Kansas. W.H. had a Real Estate Business in Garden City. W. H. and Cora had 8 children. In the 1890's the family left left Kansas for Sullivan, Illinois then on to Lewistown and Canton, Illinois. W.H. died in 1941 in Canton, Illinois.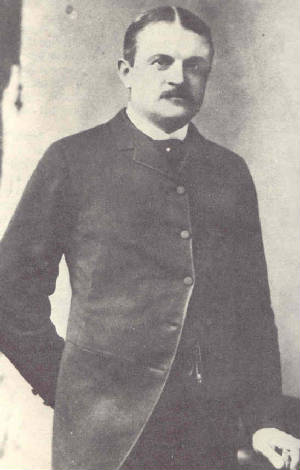 A youthful William H. Harris.
February 13,2008 - I have been contacted by Vivian James Hodge, who recently discovered some research evidence carried out by his mother, who believes she is the Great Niece of Bill Harris. Vivian offers the following:

Back in March 1977, my mother wrote to the Tombstone Epitaph newspaper, requesting information on Harris. She received a reply to her letter, printed in the newspaper, which stated the following:

HARRIS IN TOMBSTONE, DODGE EDITOR:

In your March 77 issue Mrs. Sheila M Hodge asked for information on Wm H. Harris.

Mr. Harris was originally from Reading, PA; born there in 1845. A search of the 1850 census should show him and his family there. Also the National Archives will have a record of his service in the Civil War in three Pennsylvania regiments, the 5th, 128th and 129th.

Harris was in Tombstone, as your paper indicated, and returned to Dodge City. He ran for Mayor in 1883 and was defeated by Larry Deger. He was also at one time vice-president of Dodges First National Bank. He was later involved elsewhere in politics and horse racing.

Harris committed suicide in Kansas City on Feb. 7, 1895. He is buried there in the Union Cemetry.

Sincerely,

Glenn G. Boyer
705 Yuma Trail
Bizbee, Az. 85603